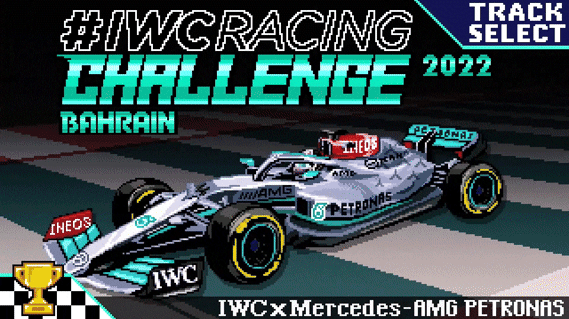 #IWC Racing
Scholz&Friends tasked us with creating an easy & fun to play retro inspired racing game for IWC Schaffhausen x Mercedes AMG Petronas F1 Team.
We came up with a game design that requires the player to stay as close to the turquoise markers that are placed along the ideal racing line. By doing so the player gains & keeps maximum speed.

The game was released a total of 2 seasons: 2021 & 2022 and new tracks were released on the day of the actual F1 race.

This game was released within IWC's App, which you can find HERE

Intro Animation Hamilton + Gameplay Video
Each driver has their own Intro Animation highlighting the IWC watches/ brand.
Part of IWC App
The game was released for IWC's app.
CLRCRS with their coding partner SharpAccent, were responsible for all the Pixel Art Games that you can see from 0:55 on.
CREDITS CLRCRS
Co Game Direction + Art Lead/
Nino Werner (CLRCRS)
Co Game Direction + Code/
Athos Kele (SharpAccent)
Music/
Nikos Ropaitis
Contributing Artists/
Davide Giglio, Piotr Radecki & Lorena Spelucin
CREDITS S&F
Agency/
Scholz & Friends

Creative Director/
Jörg Waschescio
International Account Director/
Janin Brauer & Candice Owens
Account Management/
Janice Kretschmer & Isabel Liedl