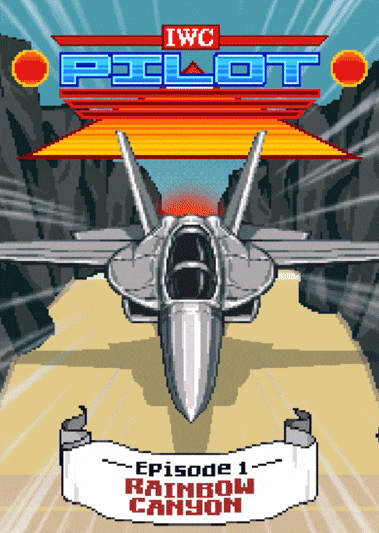 IWC Pilot

is a retro pixel game where players around the globe compete for the biggest highscore by collecting valuable IWC watches lost in the infinite Rainbow Canyon.
Challenge your friends by sharing your top score and have them chase your ghost to a new highscore.
Fly your jet safely across the canyon and pick up special items such as Shield, Magnet or even Superboost to rise above the clouds & to a new highscore.
This game was released within IWC's App, which you can find HERE
Intro Animation
The intro animation shows the player leaving the hangar, walking towards the jet and then lifting off with supersonic speed with a smooth transition right into the gaming experience.
Part of IWC App


The game was released for IWC's app.
CLRCRS with their coding partner SharpAccent, were responsible for all the Pixel Art Games that you can see from 0:55 on.

CREDITS CLRCRS
Co Game Direction + Art Lead/
Nino Werner (CLRCRS)
Co Game Direction + Code/
Athos Kele (SharpAccent)
Music/ Nikos Ropaitis
Contributing Artists/
Davide Giglio, Piotr Radecki & Lorena Spelucin
Level Design/
Jeremy Hollett
CREDITS S&F
Agency/
Scholz & Friends

Creative Director/
Jörg Waschescio
Account Direction/
Janin Brauer & Candice Owens
Account Management/
Janice Kretschmer & Isabel Liedl